Ingest, Transcode, and Output
Net-X-Code supports multichannel ingest from IP streams, with transcoding and restreaming functionality. If proxy files are also being generated by Net-X-Code, or captured from an h.264 stream source, they can be edited in real time via the RTIN and played in Drastic's pure HTML5 Net-X-Player software, with full time code and multichannel playback control. Net-X-Copy can also clip out sections of the high res file, based on time code points from the proxy file, to create clips for editing while the event is still recording.
Compatibility:
Windows, Windows Server, RedHat/Centos or Ubuntu OS
Net-X-Player HTML5 player
Net-X-Streamer - IP Video (Re)Streamer
Net-X-Code records multiple groups of multiple channels per server. Streams primarily come in as SRT, UDP and RTP transport streams or RTSP UDP/TCP streams. Streams can be captured in a number of ways:
Direct capture of TS streams as they are received from RDP/UDP/SRT
Re-wrap into MOV, MP4 or MXF OP1a/AS-02/OpenMXF
Re-encode into MOV/MP4/MXF with h.264, XDCam, MPEG-2. DNxHD, ProRes, Uncompressed essence
HLS using TS or DASH files, with multiple adaptive bit rates
MPEG-4/RTIN Proxy generation for re-wrapped or re-encoded streams for play while record in our HTML5 player
Depending on the processor requirements, servers can capture up to 225 streams from a 10G NIC. If doing re encodes and/or generating proxy streams, then processor power/usage will dictate the maximum number of capture streams.
If recording to OpenMXF, these streams can be edited while recording in Adobe Premiere, Avid Media Composer and other editing systems that support it. Captures also include Drastic's proprietary RTIN system to allow edit while record of most capture files, including AVI, MOV, MPEG-4 and all MXF variants. With Drastic's MediaReactor Workstation plugins, any recording file can be read, and clipped/exported while it is still recording.

Optional UIs for Net-X-Code IP Stream capture components

Net-X-Streamer can stream files from storage, either pre-recorded or live recording, in real time back to the network. The streams can be sent out via UDP, RTP or SRT. They must be in TS form to be streams, but Net-X-Code server's conversion system fully supports re-wrapping or re-encoding files from most broadcast/post sources into MPEG-2 or h.264 transport streams with multichannel audio, time code, metadata and closed captions.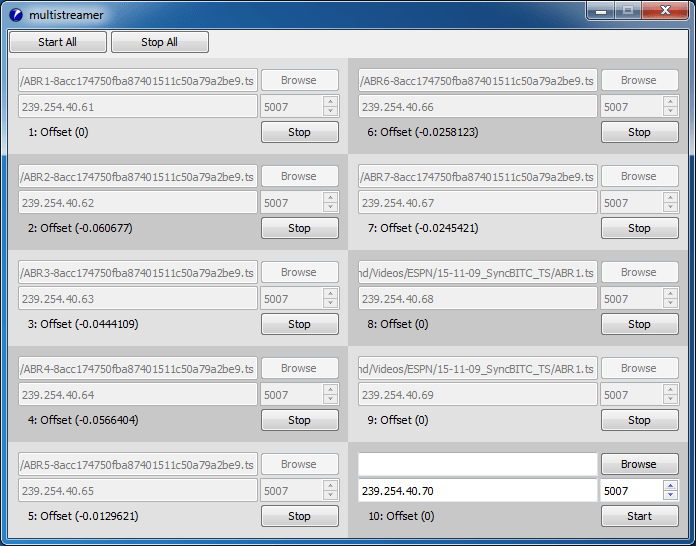 Optional UI to IP Streaming part of the Net-X-Code server
IP Protocol Support
[Input/Output] NDI <network local> - (Network Device Interface) Any NDI audio/video source
[Input/Output] HDMI/SDI - requires an AJA, Bluefish444, Matrox, Blackmagic or USB capture device
[Input/Output] SMPTE 2010/2022 - requires an AJA or Matrox IP capture card
[Input/Output] IP <one to one or many> - (internet protocol)

UDP (User Datagram Protocol)
RTP (Real-time Transport Protocol)

[Input/Output] SRT <one to one> - (Secure Reliable Transport)
[Input/Output] RIST <one to one> - (Reliable Internet Stream Transport)
[Input/Output] CDI <cloud SDI> - (Amazon Uncompressed)
[Output only] RTMP <one to many> - (Real-Time Messaging Protocol)

youtube.com
facebook.com
twitch.com, etc.

[Output only] WebRTC <one to one or many> - (Web Real-Time Communication)

direct browser
millicast.com

[Output only] WHIP <one to one or many> - (WebRTC-HTTP ingestion protocol)

direct browser
millicast.com
More great products from Drastic
videoQC is a suite of video and audio analysis and playback tools with both visual and automated quality checking tools. videoQC will take the media coming into your facility and perform a series of automated tests on video, audio and metadata values against a template, then analyze the audio and video. It includes...
Use www.flowcaster.live for real time group review of edit sessions anywhere in the world, with no render or upload required! Share audio/video/captions/time code from the editor's output in real time...
Drastic's Net-X-Code system includes a partial file restore system, that is available as a standalone server system. The partial file restore system inclu...